Surfing the Internet means possible exposure to online scams. Learn the basics to teach your kids to avoid scams online.
---
Surfing the Internet means possible exposure to online scams, something your children might not have any concept of. If you're allowing them to go online, it's imperative that you discuss online scams. Such scams come in a variety of guises, including those that specifically target children.
Let's look at how to best protect your kiddies from those who would scam them.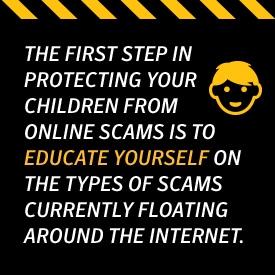 Educate yourself first
The first step in protecting your children from online scams is to educate yourself on the types of scams currently floating around the Internet. One type of scam is the free trial offer, which claims to provide, for example, free one-month trials of some "amazing" product. The fine print of these scams includes terms stating that after the trial period, you'll be paying for the product once a month ... forever.
Other examples of Internet scams include fake Wi-Fi hotspots; social media and email messages indicating you've won an expensive prize or should enter a contest to win an expensive prize; and bogus pop-ups warning of supposed viruses and malware. The latter scam often looks like legitimate antivirus programs, but what you're doing to "fix" your computer is actually infecting it with a virus.
Unfortunately, these are merely some of the many online scams that exist, so be sure to do your homework.
Learning the signs
Once you feel secure in your knowledge of Internet scams, it's time to pass this information on to your kids. Educating them about indicators of scams is important, with typical signs including:
Errors
Many Internet scams are rife with grammatical and spelling errors. If you receive messages laden with such errors about a "great deal" or contest, it's probably a scam, even if it comes from a "friend." However, there are plenty of Internet scams that contain flawless wording, as it's one of the ways scammers make their messages look legitimate.
Foreign offers
Messages from "foreign princes" claiming you need to help them transfer thousands of dollars, and simply have to pay the $150 wiring fee to enjoy a cut of the money, are now-classic online scams.
Emotional manipulation
Manipulating emotions is another common scammer trick. Financial stress, loneliness, and frustration are examples of the emotional states scammers prey on. They might not ask for money, but they will insist on personal information, which they will then use to steal identities.
Talent searches
"Kids talent searches" are types of scams that target children specifically. These scams might suggest that a child joins a particular modeling agency or accepts an invitation for a screen test. They may seem real at first, but they always ask for money to continue "working" with the agency.
Scholarship scams
Another scam that targets children is scholarship scams. They claim to be recognizing children for academic achievement but, as with talent scams, require paying significant upfront fees.
Communication
When it comes to recognizing scams, keep communication open and clear with your children. Stress that they should always come to you about any suspicious messages or pop-ups they receive, and regularly discuss online scam signs if Internet usage is a big thing in your house. Scammers rely on children's innocence, so consider limiting Internet time in your home until you're certain the kids are scam-savvy enough.
Editorial note: Our articles provide educational information for you. Our offerings may not cover or protect against every type of crime, fraud, or threat we write about. Our goal is to increase awareness about Cyber Safety. Please review complete Terms during enrollment or setup. Remember that no one can prevent all identity theft or cybercrime, and that LifeLock does not monitor all transactions at all businesses. The Norton and LifeLock brands are part of Gen Digital Inc. 
---